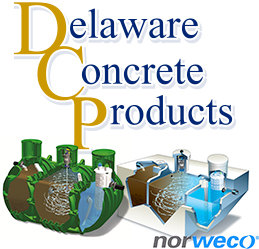 Delaware Concrete Products is a company that we at Micsky Septic Systems founded in 1998 with the goal to manufacture and supply the highest quality septic system components for use in the installation of our septic system installations.
Delaware Concrete Products has now expanded this goal to offer these same great products to fellow contractors in our region that share our same like minded goals. Which is to install the highest quality products available into their septic system installations.
Our concrete products are designed and built by installers, for installers. The products we supply are carefully designed and chosen with emphasis on strength, durability, water tightness, and ease of serviceability. As installers ourselves, we understand the subtle differences that can make a good product into a great product. We refuse to sacrifice the quality of our products for a higher profit margin.
In 2013 Delaware Concrete Products became a Northwestern, PA distributor for Norweco brand products. We feel these products are revolutionary to the septic system industry and we are proud to be partnered with them. To learn more about these amazing products please click on the link below to visit the Norweco website.